DotCO Law Marketing spent several days in February attending the American Association for Justice Winter Convention in Phoenix Arizona. We got to reconnect with some old friends and make new ones too! We also did some business there, adding more than a handful of clients to the DotCO Law Marketing family.
At the convention, we sponsored the indoor golf challenge, which was a rocking good time. We had a lot of activity at our booth throughout the day as a result of the golf challenge. But to make things even more interesting, we decided to hold a raffle and give away $20,000 worth of DotCO products.
That's right. We gave away $20,000 worth of our online advertising!
Conference attendees entered the raffle by having the badges scanned. We also gave new customers who purchased at the convention additional entries for purchasing placements with us while at the convention.
We performed the random drawing last week and selected a winner.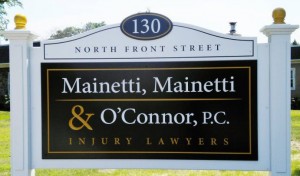 Please join us in congratulating the Kingston New York law firm of Mainetti, Mainetti & O'Connor. they were selected as our winning firm!
While you're at it, how about you stop by and "Like" their facebook page.
We'll be in touch this week to add your listings to the sites of your choosing! Thanks for visiting with us in Phoenix!
Read More
One of the features we thought would be a lot of fun for our blog here at DotCO Law Marketing would be to periodically highlight another interesting and innovating website built on a .co domain name. Obviously, we're big believers in .co since we own over 20,000 of the domain names.
Dabble
Dabble.co is a really interesting concept. According to their press page:
Dabble is a community marketplace for people to teach, discover and host unique and affordable classes online. Whether the class is an intro to Spanish, fixing up a bike or perfecting a business skill, Dabble is the easiest way for people to try something new. For teachers, Dabble allows everyday experts to share their passions with the world (while making a few bucks on the side). By facilitating ticket sales and financial transactions, Dabble makes the process of listing a class effortless and efficient. Classes are currently available in Chicago only, but Dabble plans to expand to other cities soon.
This site is near and dear to my heart for a couple of reasons beyond the fact it was built on a .co domain.
I love learning new things, and I think Dabble is right up my alley. As an example, I'm really hoping to become more proficient in using my digital SLR camera. Up until now I've been using it as a fancier version of a point and shoot camera and I want to do more. I'm hopeful I can find a class on Dabble to help with that.
Being based in Chicago, Dabble is close to my heart as well. Chicago has a really special and unique technology entrepreneur scene. It's vibrant and energized and I love to see sites like this gain traction.
So do yourself a favor and check out Dabble.
Also, be sure to check out the video that explains Dabble below. I think you'll find it a useful and interesting business!
Dabble – How it works from Dabblehq on Vimeo.
Read More