Congratulations to Mainetti, Mainetti & O'Connor!
DotCO Law Marketing spent several days in February attending the American Association for Justice Winter Convention in Phoenix Arizona. We got to reconnect with some old friends and make new ones too! We also did some business there, adding more than a handful of clients to the DotCO Law Marketing family.
At the convention, we sponsored the indoor golf challenge, which was a rocking good time. We had a lot of activity at our booth throughout the day as a result of the golf challenge. But to make things even more interesting, we decided to hold a raffle and give away $20,000 worth of DotCO products.
That's right. We gave away $20,000 worth of our online advertising!
Conference attendees entered the raffle by having the badges scanned. We also gave new customers who purchased at the convention additional entries for purchasing placements with us while at the convention.
We performed the random drawing last week and selected a winner.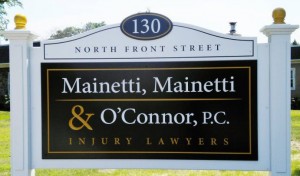 Please join us in congratulating the Kingston New York law firm of Mainetti, Mainetti & O'Connor. they were selected as our winning firm!
While you're at it, how about you stop by and "Like" their facebook page.
We'll be in touch this week to add your listings to the sites of your choosing! Thanks for visiting with us in Phoenix!